Come to AERO's 2015 Annual Conference!
May 20-24, at LIU/Post, near New York City!
You can download the Conference flyer HERE.
We feel that this is the time for the education revolution, to empower all students, to make learner-centered education possible everywhere. This year we will again have keynotes and presentations that are connected to our mission "
to help create an education revolution to make learner-centered education available to everyone." As always, we will have many workshops
that explore and demonstrate effective programs in educational alternatives. This includes any learner-centered approach, such as home education, Montessori education, Waldorf education, democratic Education, progressive education, charter schools, magnet schools, etc. If you would like to join us as an attendee and a presenter! If you are interested in hosting a workshop, see below for instructions on how to submit.
The Long Island University/C.W. Post campus is located at 720 Northern Blvd., Brookville, NY 11548.
AERO was founded in 1989 and this will be our 12th annual conference.
AERO networks all forms of learner-centered educational alternatives. The AERO conference is unlike any other conference you are likely to attend in the USA. Many attendees have described the conference as "life-changing," so you won't want to miss it!
Click here for a brief recap of the 2013 conference. Click here to read what attendees are saying about the conference.
Conference Dates
The 2015 AERO conference will run from May 20 to May 24th.
We are currently accepting deposits for AERO's 2015 conference. Placing a deposit will lock you and your group/family in at our early bird pricing.
Individual deposits
are $50 and can be placed here
group/family deposits
are $100.
Your full conference payment acts as your registration.
If you need financial assistance, please call the AERO office at 516-621-2195 or write to Jerryaero@aol.com to discuss your options.
Place your deposit today to register for AERO conference and reserve the early bird rates:
Deposits are nonrefundable. All other conference fees are refundable at a rate of $.75 to every dollar through March 30th. No refunds for any conference fees will be returned after April 1st. Conference attendees should pay off their balances in full by April 15th.
Keynote Speakers:
Sugata Mitra
We are proud and happy to announce that
Sugata Mitra
will be a keynoter for the next AERO conference here in New York, May 20-25. Mitra, now world-famous, is the creator of the "Hole in the Wall" experiments in India and the winner of the TED prize in 2013. His TED talks about how he put a computer in a wal
l in a
slum
at Kalkaji,
Delhi
have bee
n watched by many millions.
Here are a couple of short items about his work:
TED Talk:
On 3 May 2013, Mitra's
TED
Talk
"Build a School in the Cloud"
was featured in NPR's TED Radio hour on "Unstoppable Learning". In the program, Mitra discusses the
"Hole in the Wall"
experiment. Mitra discovers that children in the rural slums of India (many of which have never seen a computer in their lives) are capable of teaching themselves everything from character mapping to DNA replication all on their own.

Mitra discusses a world of unstoppable learning through the creation of a worldwide cloud – where children pool their knowledge and resources in the absence of adult supervision to create a world of self-promoted learning. He also has a ted talk about "Child Driven Education"
Hole In The Wall
In 1999, the
Hole in the Wall
(HIW) experiments in children's learning, was first conducted. In the initial experiment, a computer was placed in a
kiosk
in a wall in a
slum
at Kalkaji,
Delhi
and children were allowed to use it freely. The experiment aimed at proving that children could be taught by computers very easily without any formal training. Mitra termed this
Minimally Invasive Education
(MIE). The experiment has since been repeated in many places; HIW has more than 23 kiosks in rural India. In 2004 the experiment was carried out in
Cambodia
. (His interests include education, remote presence, self-organising systems, cognitive systems, physics and consciousness.)
This work demonstrated that groups of children, irrespective of who or where they are, can learn to use computers and the Internet on their own with public computers in open spaces such as roads and playgrounds, even without knowing English. Mitra's publication was judged the best open access publication in the world for 2005 and he was awarded the
Dewang Mehta Award
for innovation in IT that year.
The Hole in the Wall experiment left a mark on popular culture. Indian diplomat
Vikas Swarup
read about Mitra's experiment and was inspired to write his debut novel
Q & A
, which later became the movie
Slumdog Millionaire
.
Zoe Weil
Zoe Weil (pronounced "Zoh While") is the co-founder and president of the Institute for Humane Education (IHE), and is considered a pioneer in the comprehensive humane education movement. Zoe created IHE's M.Ed., M.A. and graduate certificate programs, as well as IHE's acclaimed humane education and MOGO (most good) workshops.
Zoe is the author of six books, including the Nautilus Silver Medal–winner "Most Good, Least Harm: A Simple Principle for a Better World and Meaningful Life" (2009) and two books for young readers, including Moonbeam Gold Medal-winner "Claude and Medea" (2007). She has written numerous articles on humane education and humane living, and given interviews to such outlets as Forbes.com and numerous radio and television stations.
Zoe speaks regularly at universities, conferences and schools, and in communities across the United States and Canada and periodically overseas. She has also served as a consultant on humane education to people and organizations around the world, and serves on the board of directors of Humane Education Advocates Reaching Teachers (HEART).
In 2012, artist Robert Shetterly painted Zoe's portrait for his acclaimed Americans Who Tell the Truth series. Also in 2012, Zoe was honored with the Women in Environmental Leadership award at Unity College. In 2010, she was inducted into the Animal Rights Hall of Fame.
Zoe received master's degrees in theological studies from Harvard Divinity School in 1988 and in English literature from the University of Pennsylvania in 1983. She is also certified in psychosynthesis counseling.
Zoe lives with her husband and several rescued animals in a home adjoining the Institute for Humane Education in Surry, Maine.
She has done a number of Ted Talks which you can find here.
Jeremy Stuart
We are pleased to announce that Jeremy Stuart, director of the new blockbuster documentary on unschooling, Class Dismissed, will travel to the AERO conference from his home in California to present it on the opening night. The documentary has shown to full houses all over the country. It is very skillfully put together and, among other things, follows to lives of actual unschoolers for years a la "Boyhood." We're very excited to be able to feature this.
Workshops and Presentations
Aside from the keynote speakers at the AERO conference, there are dozens of other workshops, presentations, and discussions that will occur on a great variety of issues related to educational alternatives.
This year we will have as our major strand Alternatve Education and Technology. This will include a server hosting a Mindcraft World to be creaed at the conference. But we will also have a large variety of workshops covering the spectrum of educational alternatives and learner-centered education.
If you are interested in presenting a workshop, organizing a discussion or other activity at the upcoming AERO conference, please send us your proposal by January 15th. You can start by sending a paragraph about your proposed presentation. This year we plan to have fewer planned presentations and presenters at the conference so we can have more spontaneous presentations, so send your proposals as soon as possible.
Please click here to submit your proposal online
. The full list of workshops at AERO conference will be posted March 1st.
School Visits
Last year we had visits to the following schools on the day before the conference. We expect to be able to do this again, and perhaps to other schools. It should be even better since this year's conference is during the school year.
Brooklyn Free School, 372 Clinton Avenue, Brooklyn, NY 11238

Agile Learning Center, 115 East 106th St., Second Floor, New York, NY 10029

Pono, 2002 5

th

Ave, Harlem, NY 10035
Exhibitor/Vendor Tables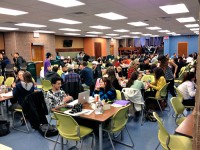 We have a limited number of exhibitor's display tables available throughout the conference. These will be located in Hillwood Commons, where all keynotes and presentations will be made. The tables the standard six foot size. People can bring their own freestanding displays and signs. If you are interested in having a table at the 2015 AERO Conference, email jerryaero@aol.com or call (516) 621-2195.
AERO Conference Documentary
What is the AERO conference?
The most important activity at AERO conferences is the networking. There have been some very powerful and inspirational keynote speakers such as John Gatto, Riane Eisler, Alfie Kohn, Herb Kohl, Patch Adams, Yaacov Hecht and Sir Ken Robinson. The workshops, presentations and panels are often done by people who would have been keynotes at other conferences, but are also done by grassroots people, who are simple practitioners in educational alternatives, including homeschooling parents. Furthermore, unlike most conferences, AERO always reserves space in every time session for spontaneous workshops that are posted daily.

Here are some comments from former attendees of the AERO conference:
AERO was by far the most interesting and productive conference I attended last year–which I did as a first-time attendee. I highly encourage those of you who are interested in expanding their conversations about learning beyond traditional classroom and school discussions to consider attending. You will likely leave with lots of bold new ideas!
-Steve Hargadon
I found the AERO conference an incredibly diverse, divergent and sometimes challenging source of ideas and educational approaches. It can only open your mind.
That's what I found, anyway.
-Stuart Grauer

I always feel rejuvenated and empowered every time I get the chance to go to the conference.
-Marc-Alexandre Prud'homme

The AERO conference is where I can talk face to face with people following a similar road to mine in creating opportunities for people to self-direct their learning. There is no better place to exchange ideas and develop a supportive network for revolutionizing education.
-Carol Nash
Last year was the first AERO conference I attended and it felt like coming home. I met so many people who share perspectives about the need for an education revolution. The sharing of ideas, the gaining of even more knowledge about educational alternatives, and the ability connect with so many people who are out there making real changes made it an amazing and inspiring experience. I can't wait for this year's conference!
-Carolyn Albracht

I attended my first AERO conference last year and it was the first time I felt such a profound sense of belonging to a community of educators. The AERO conference connected me to a wide, passionate and extremely resourceful network of people determined to bring forth a education renaissance around the world. Definitely a stepping stone in my career as an alternative educator.
-Alex Aldarondo

AERO Conference is always paramount to my continued energized work in education which can be summarized in two ways. One, AERO is the one place where I know a vast majority of the diaspora of authentic education alternatives will be represented; it is always refreshing to think about my philosophy and work within the context of Free Schools, Democratic Schools, Unschoolers, Home Schoolers, as well as Reggio Emilia, Montessori, Waldorf practitioners, amongst other nuanced approaches to education. Two, the energy and thoughtful reflection always provides me with a much needed "recharging the batteries", reminding me that I am one small part of a massive global education transformation focused on the common ground of truly student centered learning.
-Kirk Cunningham

I came out of the 2013 AERO conference with many interesting ideas, and one major epiphany. If I get out of the 2014 conference with a similar loot – it would be well worth my while.
-Amir Notea, Israel, high tech entrepreneur, author
"I enjoyed and profited greatly from the AERO conference. I was very interested in the concept of democratic schooling and also wanted to explore other "alternatives" such as unschooling, Waldorf and Montessori, and the conference gave a boost in getting more information and understanding of those concepts. The informality and potential for dialogue, both organized and spontaneous, was significant. It was particularly helpful to interact with some of the leaders in the democratic school movement, as well as the "troops on the ground" who try to make it work every day. It's also gratifying to see people who are taking this idea seriously."
"I so much appreciated your love, commitment, energy, compassion, thoughtfulness, bravery, and creativity in putting on the conference. It had a huge impact on me and my husband."
"Amazing… to be among like-minded people from around the globe. One could write a book about the characters attending it. The topics discussed (sometimes into the wee hours) were exceptional. Fading into the past, but not from my mind. This portrayed a dream of the world I carry in my heart and soul. Not an impossible dream. May we wake soon to find these dreams a reality for all. Thanks!"
"What a great time… I am still on cloud 9 from the conference. Everything was so positive, sincere, and loving…"
"Thank you for causing a Major Ripple in my life. Thank you for the experience and my awakening."
"I'd like to thank you all for sharing your energy. It was truly a memorable experience, and I have a feeling that many flowers will bloom from this gathering."
"The conference was indeed a great event–from which I learned a multitude of both the conceptual and directly practical. I feel extremely fortunate in my life to have been able to experience it."
"Being there was the high point of my life (other than the birth of my sons) and I will never forget the experience!"
Who should go to the AERO conference?
Our attendees are from an amazingly wide spectrum. We have had people from every state and dozens of countries.
Our conference has always been friendly to students and children, usually including presentations by and for children and students. Therefore many attendees bring their children and teachers bring groups of their students. Student and children's rates are discounted.
There will be child care throughout the conference .
Attendees have been:
Teachers, administrators, parents and students from public and private alternatives

People from Democratic, Montessori, Waldorf, higher education alternatives and charter schools

Homeschooling families

Researchers

Mainstream public school personnel interested in change

Media

Education writers

and many others!
Child Care
We will be providing childcare each day of the conference (Thursday, Friday, Saturday, and half of Sunday) for children ages 3-11. Child care is included in the cost of your child's registration fee of $100. If you need financial assistance for your family to register, email jerryaero@aol.com
Volunteers
We are looking for a handful of superstar volunteers to help out at the conference. This will involve overseeing the meals, helping in the dormitories, working at the registration/conference info table, helping with the bookstore, helping put up signs, childcare, audio/visual, putting together conference packets (info about the hotel, NYC info, brief schedule). If interested, write to jerryaero@aol.com. Volunteers will receive a conference discount.
This year's conference will be held on Long Island University's C.W. Post campus. The location is just a 45 minute train ride to Manhattan. The address is 720 Northern Blvd., Brookville, NY 11548. We have free WiFi in many locations on campus.
Here's a link to the campus map. We will be having our keynotes and meals in Hillwood Common, #19. Socializing areas are also there. The dorms are just to the right at #54 and #55. The workshops will be in #21. So the conference is in a pretty compact area.
Lodging for most attendees is conveniently located in the dormitories on the POST/LIU campus, right next to the presentation/commons building and the cafeteria. The cost for a bed in a double room is $55/night and $75/night for a single room. Couples, parent with child 12 or over, or two teenagers is $79 a night. You can sign up for these here. Parking is free.
For parents or school groups with children under 12 we have made special arrangements with the nearby Econolodge and will provide daily transportation to and from the Post/LIU campus. To get the $80 room rate there call (516) 433-3900. Mention that you are going to the AERO conference. Of course all children can attend the conference and we are providing child care for those who need it.
Meals can be purchased on-site at LIU/Post's Hillwood Cafeteria. Paul, the director, said he will work with vegetarians, vegans and those who need gluten-free foods, but you must contact them beforehand with your needs. His phone is 516-299-3668. He also confirmed that they will have sushi. This is all on your own. You can order out or eat out if you want.
Hillwood Café
Located on the first floor of the Hillwood Commons Building, Hillwood Cafe is our largest retail food court on campus where we offer traditional popular concepts such as pizza, grill, made to order salads, entrees, and soup. TOPIO's Individual slices range from $2.49-3.39 TOPIO'S embraces trusted old world techniques that go back generations: fresh pressed dough for thin crusts, organic tomatoes and a classic blend of Mozzarella and Asiago cheeses. This pizza shop features slices of traditional favorites like traditional cheese, pepperoni, veggie and a daily creation along with insanely delicious Stromboli and calzones, and bread sticks with marinara sauce. Grille Works Combo meal range from $5.99 up depending on what you choose The overall strength of Grille Works lies in its simplicity. Burgers, fries and chicken sandwiches comprise some of the most enjoyable meals in the United States, and these items are the cornerstone of the Grille Works menu. Our daily offerings include grilled, crispy and spicy chicken sandwiches, hamburgers, cheeseburgers, chicken fingers, cheese steaks, mozzarella sticks, veggie burger, French fries and curly fries. Produce Patch $4.49 up depending on how many toppings you choose The Produce Patch delivers on variety in the form of customization and mix-and-match menu options. The service model has salad "chefs" walk each customer through the build-your-own process. The salad built to order allows the customer to choose from a variety of freshly prepared ingredients. Our daily rotating offerings include two varieties of greens, sixteen toppings and five dressings.
Home Zone $3.69-$6.39
Classic comfort style food is offered form this station such as Roast Turkey, Meatloaf, Chicken Marsala, Mashed Potatoes and fresh vegetables daily.
Grab n' Go Express encompasses all menu items offered within our existing air screens allowing our customers to select convenient, high-quality offerings. The daily menu offerings include a variety of pre-made sandwiches, salads, fresh cut fruit cups, yogurt parfaits, Sabra Hummus cups, Dannon and Chobani yogurt cups, puddings and whole fruit. F'real $ 3.99 for any flavor shake F'real offers authentic milkshakes, smoothies and frozen cappuccino blended frozen beverages– all made from real ingredients – ice cream, fruit, milk and coffee. Consumers freshly blend our products in a blender. The daily offerings include cookies and cream, mint chocolate chip, peanut butter and of course old favorites like choc, van and strawberry flavors. Kettle Classics Soups Choose from a rotation of our homemade soups or chili & rice which is offered daily.
Transportation
It is easy to get to the LIU/Post campus by train. If you come by AMTRAK to New York City you end up in Penn Station. On the lower floor in Penn Station is the Long Island Railroad. You would take the train to Hicksville. That train runs every half hour or so. It is a 10-minute taxi ride from there. You could also go to Greenvale, which is slightly closer but that train runs less frequently (about every hour and a half).
If you fly into JFK you can take the monorail to the Long Island Railroad station at Jamaica and take the train from there to Hicksville. It is a short bus or taxi ride from there to the conference
If you fly into LaGuardia Airport you'd need to take a taxi or bus to the Jamaica train station.
If you fly to Newark, New Jersey there are easy busses and trains to Manhattan and Penn Station.
The Long Island Railroad Station at Hicksville is near the Econolodge if you are staying there.
We may be able to provide transportation to the train to NYC from the dorms or the Econolodge.
Bus from Hicksville
The N20 bus from the Hicksville railroad station leaves at 9:21 AM and should arrive at 9:35 AM at the CW Post campus.
If people in New York City take the 8:14 AM train from Penn Station, which arrives at 9:00 AM, we should be able to take the bus with no problem.
There's also a 8:28 AM train which arrives at 9:16 AM, but that's cutting it close, to catch the 9:21 bus, I think.
You can take a bus or taxi from the Econoledge to the campus:
To take the bus from the Econolodge to CW Post campus walk east on Old Country Road to the first bus stop and take the N24 for 8 minutes getting off at the Hicksville LIRR Station. Alternatively you can walk 1.4 miles east on Duffy avenue to the train station. Then Transfer to the N20 and ride for 17-20 minutes to the campus.
Reserving Books
If you've attended the AERO conference before you know that hundreds of books are sold and some titles will be sold out. Most of the books on our website will be at the conference. If you want particular books reserved you can email us at info@educationrevolution.org and we will hold them for you at the conference.