The Alternative Education Resource Organization (AERO) is a global network of education innovators, resources, and action organized to achieve a learned-centered education revolution around the world.
AERO membership is available for individuals and schools around the world who would like to help realize an education revolution. AERO members include education activists, researchers, parents, students, and teachers that support AERO's mission.
Members enjoy being able to link their site through AERO's member/school lists, post jobs or resumes on our highly-trafficked website, and get discounts in our bookstore and to AERO events. Members also are able to join AERO's global listserve of education innovators to discuss important and current topics related to achieving the education revolution around the world.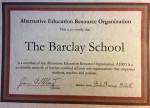 AERO members can get a Certificate of Membership for their use as well as a website banner/badge to place on their website if they choose.
If you are a new individual, school, or organization in AERO's member network, send your website link or job/resume listings you'd like to be posted to info@educationrevolution.org.
"Thank you for your help. The candidates coming from your website have been top notch!" – Aimee Skinner from Greenfields Academy.