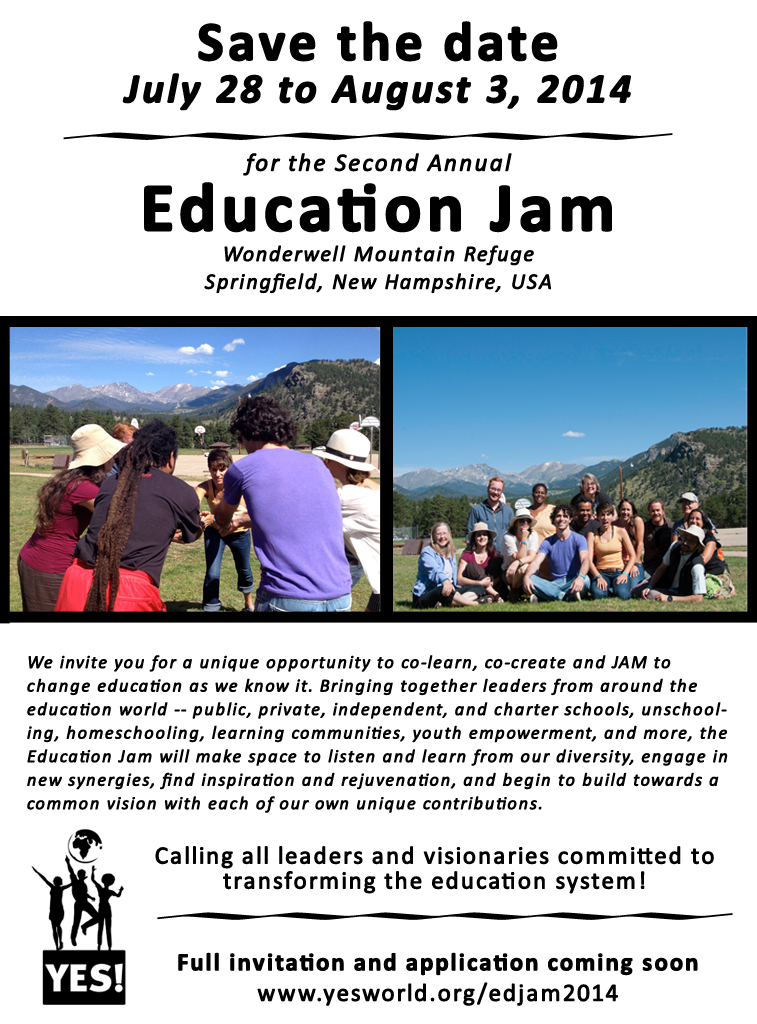 Calling all leaders and visionaries committed to transforming the education system!
We invite you for a unique opportunity to co-learn, co-create and JAM with a diversity of folks from around the US and beyond, who are working in dynamic ways to change education as we know it.
The second annual Education Jam will take place from July 28th to August 3rd, 2014 at the Wonder Wall Mountain Refuge in Springfield, New Hampshire.
Apply today! Priority application deadline: June 23, 2014.
More about the Education Jam:
30 leaders and visionaries will gather for six days in a beautiful retreat center in the New Hampshire wilderness. We will spend the time building community, deepening in stories and perspectives, sharing places of growth and struggle, and co-creating inspiration and vision.
We will be inviting folks from around the education world: public, private, independent, and charter schools, unschooling, homeschooling, learning communities, youth empowerment, and more. We acknowledge that in the education sector there is a fair amount of division around definitions of the "best way forward". We also know that across the spectrum, people working in the education world are constantly giving of themselves. The Education Jam will make space to listen and learn from our diversity, engage in new synergies, find inspiration and rejuvenation, and begin to build towards a common vision with each of our own unique contributions.
Over the course of the whole Jam, we will have time to engage with questions like:
What is your personal story around education? How do your experiences inform the path you have chosen to take?
What does learning mean to you? What does unlearning mean to you?
What are your traumas and your triumphs around education?
When did your heart fully enter this work? How are you fed and sourced in what you do today?
How are you living the values and world you are trying to create?
What kind of support do you need to help come into deeper alignment with that world? What kind of support can you offer others to support their journey into deeper alignment?
We will use a variety of learning modalities – from movement and bodywork, to storytelling and myth making, to visual and performing arts, to small group dialogues, to whole group conversations. There will be space for silence and for connecting with nature. The Jam will unfold to make space for our whole selves, for our spirits, for one another, for our highest dreams and our deepest fears. All of it will be welcome.
The Jam will create space for transformation on the personal, interpersonal and systemic levels. As with other Jams, we are prepared to be surprised! One hope is that people will have the opportunity to integrate their learnings and carry them home, to be able to find and connect with people who have the heart, spirit, skills and knowledge that they are needing for the next steps of their personal journey and the next steps of our collective journey.
This year's Education Jam is excited to do some deep dives as a community into the themes of place-based learning, learning from/through/with nature, self-designed learning and design thinking, student leadership development, alternative assessment, and more… We are looking forward to co-creating these deep dives with the experiences, questions, struggles and wisdoms of the community of people who gathering.