Dear Friends:
Today I want to share with you a recount of the efforts our school has been implementing to contribute to the recovery of Puerto Rico following the passage of Hurricane Maria.
Status of our Staff
Immediately after the passing of Hurricane Maria, we generated an official chat so that each member of our staff could report how it was. It was a challenge due to problems with telecommunications, but in the end, we all were able to communicate our status after the hurricane. In this way, coordinators, principals, and directors of the organization were summoned to a meeting scheduled for the 26th of September in which the plan of action to be followed was presented. There we decided to go out to find the people who still did not know anything (both staff and students) to accompany us at the official meeting of the community on October 3, 2017, in the new headquarters of our school in Caguas.
Community meeting of our school
On October 3 Our community met almost entirely in order to know the personal and family situation of each one, to share experiences and to determine the alternatives that existed to begin to provide service, in addition to what would be the position of the Organization after this atmospheric event that inevitably changed our situation as a country. The decisions resulting from this meeting were:
-Start work on Wednesday 4 October in our centers of Caguas and Loíza.
-To assemble a communal canteen to offer food to students and their families as well as to our staff, making it extensive to neighbors in the area who need it.
-Restructure the transportation service that we usually offer to our students, adapting it to the new reality and their particular needs.
-Going out to find the staff and students we still had no information about.
After the meeting, I moved to Guayama with two members of the NE staff to go to the house of the last companion of whom we had no news. For us it was very important to know that he was well and to support him in need of some help.
"I was surprised because I had not had any communication with the school. I had searched the radio to see if I was hearing information … I did not expect it. I was playing cards with my family and suddenly Ana Yris arrived. They risked and arrived at my house in Guayama, that is very valuable. It's an act of love that I value very much. "
~ Fitzroy McGregor, Agriculture Facilitator at Nuestra Escuela.
Likewise, both teachers and social workers from Caguas and Loíza went in search of students of whom we still did not know anything, as was the case of Limarie Roldán, science facilitator and mentor at our center in Caguas, who visited the house of his student Anthony Santana and spoke with his dad, who was surprised to see it and thanked him for getting there.
"He told me that Anthony wants to stay in Puerto Rico. They do not want to go to the United States like they had planned after the hurricane. He wants to stay in Nuestra Escuela. Dad was very happy to see me. "Let Anthony know that you came here!" He said.
~ Limarie Roldán, Science Facilitator and Mentor at Nuestra Escuela.
For an educational organization like ours is very important the welfare of our and our students. It gives us great joy to know that you are pleased to be part of this community and that you feel loved and respected. It is our greatest reward.
"I was happy when I learned that Limarie went to my house and that we would start classes again … It is that in Nuestra Escuela they attach great importance to the student. I would be here every day. I have many friends and I do not want to go to the United States because I would feel as if I would abandon them. "
~ Anthony Santana, Student at Our Caguas School.
A new beginning
Upon restarting work, the students met with their mentors to resume and adapt their different projects to the new reality of the school and the country. It was they who decided what they are going to be doing in the next 3 weeks. Their efforts are focused on the recovery of their communities and the well-being of their neighbors. They are: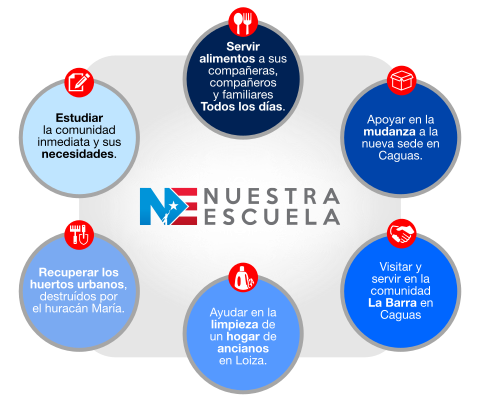 At Nuestra Escuela, we are very grateful for all the approaches and support we have received. At the moment the main need is to sustain our community dining room that allows us to bring happiness to our young people and their families by offering a hot meal a day and that serves as support in these critical moments that our island lives. If you want to help with food or drinking water do not hesitate to contact us at:info@nuestraescuela.org. Every donation is well received!
With your help, we will raise this country, one day at a time.
Big hug!
Ana Yris Guzmán Torres
Executive President
Nuestra Escuela
Donations to support the work of AERO sustaining member Nuestra Escuela can be sent here. We will send 100% to the school.