Sands is an small 'alternative' secondary school (10 to 17) where Art is highly valued. It is located in beautiful buildings and grounds in Ashburton, on the southern edge of the Dartmoor National Park, United Kingdom. You will be teaching six classes of up to thirteen students in an environment that is often likened to an Art School in miniature.
The post is full-time and permanent.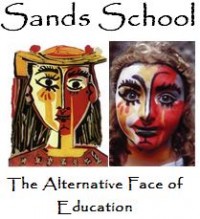 Sands School, Devon – Art Teacher, Full-time, Permanent
The School
Sands is a democratic community in which staff and students (currently 69 on role) run the school as equal participants. Students are encouraged to take responsibility for their own learning and their environment. It is located in beautiful buildings and grounds in Ashburton, on the southern edge of Dartmoor. The age range is from 10 to 17.
Art at Sands
Art has a special place at Sands as it is a subject where our students often first experience their new-found control over their own education and their freedom to express and discover themselves. The Art Room is a space where they start to gain the confidence to experiment and take risks.
Art has its own building on two floors with a wide range of media. Currently, the ground floor is largely dedicated to 3D work, with specialist areas for clay, plaster, mixed media and welding. Upstairs is the main teaching space and painting and drawing area with a good art library and individual work spaces for final year students.
What our students say they like about doing Art at Sands:
Doing practical things as well as drawing and painting
Being able to design their own projects and experiment
Having the Art room open at all times with a communal atmosphere
Being pushed and having high expectations
Getting praise and one-to-one help
The role – to start in September 2014
This post delivers Art across all of the year groups. The numbers taking Art in each year group varies, with larger groups (up to 13 students) in the younger years and fewer (but more focused) students in the older years more directed towards a qualification in Art.
Sands currently offers the AQA GCSE in Art and Design with most students following the broad course, but a small number opting for the Photography specialism. Experience of running this course, or something similar, is therefore desirable. However, it must be stressed that the GCSE curriculum is covered within a much more holistic and student-led approach to the subject.
The Art area is often likened to an art school in miniature and teaching art at Sands has something of the range and depth of teaching a foundation degree course. The teacher also needs to be comfortable with a very student-centred way of working.
Good drawing skills are essential. The range of skills required is wide but there is opportunity to expand skills in-post and the school is open to changes and further developments in Art. A good knowledge of (or at least enthusiasm for) Art History is also essential and the art area has its own extensive art library.
Sands is not driven by testing and assessment: teachers are trusted and expected to understand the learning needs of every one of their students without the 'aid' of performance charts. However, all teachers are expected to provide termly written feedback to their students and to parents as well as to properly administrate the coursework needed for external exams.
What our students say they are looking for in their Art teacher:
Inspired and inspirational – someone to look up to
New, fresh ideas – open to trying new things
Knowledgeable, but not an art snob
Someone who likes and is able to do lots of different styles of art
Someone who likes children and who can relate without patronising
Positive with flair, energetic
Committed
To find out more about the post (and how to apply) and about the school and its philosophy please visit our website. http://www.sands-school.co.uk/vacancies/
Closing date 24th March 2014
No agencies or CVs please