The following interview is shared with you by both Deborah Meier and Isaac Graves. To learn about this interview series and reproduction, citation, and copyright information, please click here. To find out more about Deborah Meier, click here and follow her on Twitter.
Deborah Meier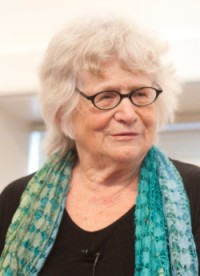 Isaac Graves: What does community mean to you?
Deborah Meier: That's a spectacular question because I have recently realized I use it in different ways. Sometimes I use it to mean an involuntary, place you live, which you are a member of whether you like it or not. I think communities that you are a part of, and are not self-selected, are also important. It makes you think about how one can get along with people who we didn't choose to live next to, but who we do live next to. So sometimes I use it in that simple, geographic sense and other times I use it to mean a more selective sense, where you choose to attach yourself as a member, more like a club. It's not a family, I reserve the word family for people who have to put up with you, who love you so much.
IG: How does community play out in your life?
DM: It's very little of the geographic kind of community that I describe anymore–that was very much part of my life when I was raising children. Since then, it's been much less of a focus and I miss it. And if I didn't have outside pulls on me, I might try to create a community where I live. There are ways, and I'm sometimes pulled in that direction, and then I realize I couldn't still spend enough time thinking about this community to make it a central thought for me. So it's mostly in that second, selective sense. I'm involved in that sort of political education community, which also includes friends. And then there's the family and friends community, which I said I don't know whether I qualify that as community or not.
IG: What do you find most meaningful about community?
DM: This answer has changed at different times of my life, based on what community was the center of my life. When my children were growing up, I think it was their immediate geographic community, which is where they went to school, where their friends lived, and where they could play safely outdoors. For me, that was where I could have a cup of coffee with a friend, where I could run for political office . . . that was the center of my life for about twenty years. In some ways, that community overlapped with the second kind. Most of the political and social ties I had were, in a sense, within that community. Those overlapped with others, but I think those communities are part of my interest in schools. A very large number of kids grow up today without any of these communities. They don't even know exactly what I mean by having some kind of loyalty and attachment to the community—the school, our school, was a community. We didn't all love each other, we had relatively little social life with each other outside of school but we understood that we shared the honor of the school, if you will. Kids caught that—it was contagious. And what I hear from them now, through social media, I hear from kids that I haven't seen in 20 years and the extent to which they still feel like a member of that community is stunning.
IG: What's missing in community?
DM: What's doesn't exist is that sort of that attachment to community. Kids generally, after they reach 12, their only community outside of their family is other people who are 12, 13, 14, or 15. That's a limiting community, it may be a community of sorts, but it's fairly small. And, you know, I think their attachments to social media sites is a search for a somewhat larger community, what schools don't offer at all. Kids find little subcommunities within the school. If they don't find a community in which they, over time, feel some attachment to, they will need something more.
IG: What is an ideal community to you?
DM: There wouldn't be just one. I think that's not only ok, but I think it's important that we belong to more than one, so it depends on the community. It would likely be a community which I feel attachments and loyalties to others, even if we disagree, even if they annoy me, and it would be a community that holds us together.
IG: What does a democratic education mean to you?
DM: It's one in which the community operates democratically, which takes each other as equals, but one that acknowledges young people are novices at it and therefore they're gradually initiated into more and more responsibilities in the community until they're a full member of it. As a full member, they're responsible and accountable to each other for whatever the community does, and that's how they play their role.
IG: How does education play out in your life?
DM: Well, of course it all depends on how you define education because I'm always learning. You're touching on some of the areas where I'm still struggling, and have been for a good time. Definition, understanding… So, I don't know how to answer that except to say I'm always learning.
IG: What do you find most meaningful about education?
DM: You know, in the broader sense, we haven't got a choice… we're always learning. The question is "are we learning in a way that helps us grow?" or "learning in a way that narrows our vision?" So, I don't think we have any choice but to keep learning and it's most meaningful when it's in a way that helps us grow.
IG: What's missing in education?
DM: Everything postive about education that we've been talking about. It's virtually a form of boring incarceration, in which, I think, on the whole, neither teachers nor students have the kind of bonds with each other that makes them good learners. They're just living parallel to each other and, you know, teaching hasn't changed a great deal—it superficially has—we have our agenda, they have theirs and they rarely touch.
IG:What is an ideal education to you?
DM: Ideal is too much for me, but that question would be part of a conversation that's interesting and which I'm always learning from. Like good books. I mean, a common agency of people and people via their books, movies…
IG: What do you think people should know about the relationship between community and education?
DM: Now those words, "community education" … that's interesting because, in fact, we have this idea that K-12 schools are education and we do forget that everything outside of schools is also education. Education takes place after you leave schools, whether it's high school, college, whatever—this idea creates a culture that makes it easy to put that informal education outside of schools more central by thinking education is more than just K-12 schooling. We need to ask whether we are creating environments in communities outside of schools that are stirring minds or helping people escape their minds?"