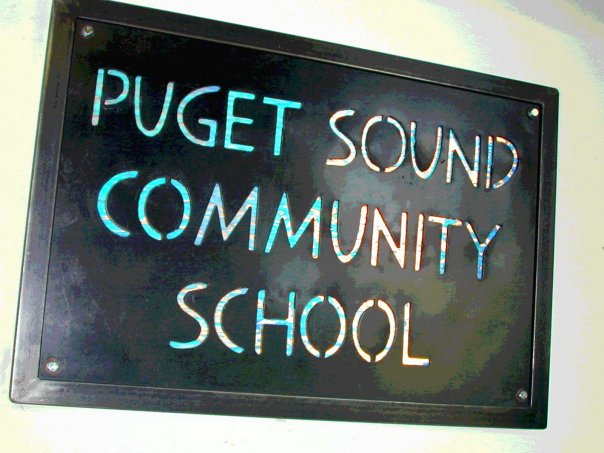 Puget Sound Community School (PSCS), an innovative, state-approved private middle & high school in Seattle, has an open teaching staff position for the upcoming school year, 2014/2015, and likely beyond. The person hired will work mainly within our middle school program although the nature of the school is such that there will be overlap with our high school program. This 10 month, renewable school year position (August 25, 2014 through June 24, 2015) is a salaried position with full medical, dental, and retirement benefits. The salary is set at $43,640 regardless of prior experience.
Founded in 1994, PSCS is based on the belief that people are compelled to learn intrinsically and will eagerly learn what they are interested in learning when provided a positive environment and support in their self-selected pursuits. Engaging the community, acting with courage, practicing integrity, and otherwise living as a responsible citizen are among the valued goals of a PSCS education. A compassionate staff of talented and interesting people work together as a team to provide a nurturing, respectful and vibrant school environment for approximately 50 students in a multi-age setting. We hold those involved with PSCS to very high standards of behavior and demand that everyone strive to build relationships based on mutual trust, honesty, support, and understanding. A primary role of all staff members is to sustain this environment while providing the students with a variety of educational opportunities. At PSCS, we also believe that functioning in a truly diverse community is a vital 21st-century skill and are building our community accordingly. We strongly encourage people of all backgrounds to apply, especially people of color.
In hiring staff members, PSCS first looks for strength of character and personality as well as deep passions and a willingness to be open to experiencing whatever it is that life offers. It is our belief that people teach who they are. In addition to this, the ideal candidate will possess some of the following characteristics, skills or experiences:
see life as an exciting adventure
have experience working with middle school students
experience in inclusivity or diversity in the classroom
be familiar with a student-centered approach to education
Note, it is not a requirement of this position that a candidate be certified to teach in Washington state.
To be introduced to PSCS, please go to:
To meet the staff, please visit:
Applications are being accepted through June 6, 2014. To apply, send a cover letter, resumé, and three references to:
Andy Smallman, Director
Puget Sound Community School
660 S. Dearborn St.
Seattle, WA 98134
In your cover letter be sure to include what has attracted you to PSCS and two or three of the things that stand out to you about our educational philosophy. We strongly encourage you to be creative in the presentation of your application materials.
Direct questions to Mr. Smallman at 206-324-4350 or andy@pscs.org.